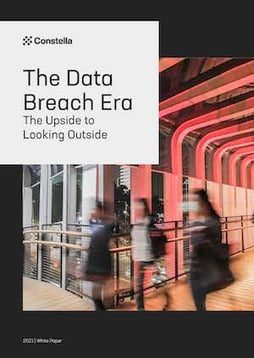 Today, the number, size, and cost of cybersecurity incidents are growing exponentially. The vast majority of these attacks are conducted using stolen digital identities that criminals buy, sell and trade-in hidden parts of the internet.
Increasingly, the traditional ways of preventing breaches aren't working. In general, these approaches involve building a wall around an organization's network to keep criminals out. But are they enough? Apparently, not.
Consider these facts:
Over 11 million consumer records are compromised every day
80% of attacks are initiated using stolen passwords
A typical person has 3-4 passwords shared across their 25+ accounts

Cybercrime is predicted to inflict damages totaling

$6 trillion

USD globally in 2021

More than 50% of small businesses were breached in the last year
Download the Data Breach Era White Paper as it explores an "outside-in" approach to cybersecurity that involves mining the same data criminals are using to break into networks to keep them out.