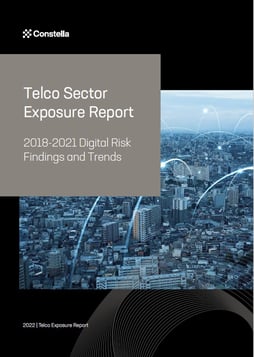 Telco companies are high-value targets for threat actors because they store and manage of vast amounts of proprietary data. The pandemic-driven transition towards securing a remote workforce and accelerating digitization has led to greater digital vulnerabilities and risk for companies in this sector.

This report uncovers the widespread prevalence of breaches in the Telco sector, detailing the serious damage that can be inflicted on employees, executives, and brands, through exposed employee corporate credentials and other sensitive data.

Key Findings:

Constella identified over 5.6M exposed records from nearly 5K breaches and leakages exposing corporate credentials of employees from the Top 20 Fortune Global 500 Telco companies.
The number of exposed records skyrocketed in 2021, accounting for 57% of the total 5.6M exposed records.

43% of Telco executives have had their corporate credentials exposed in a breach (2018-2021).
Over ⅔ (67%) of the breaches and leakages identified include personally identifiable information (PII), and diverse attributes.

Telco Sector Exposure Report