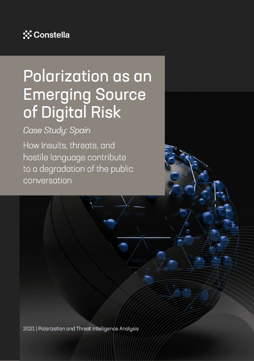 Insults and threats online contribute to the deterioration of key public digital conversations. As a leader in Digital Risk Protection, our teams analyzed insults and threats in the online Spanish sociopolitical debate to better understand the emerging reputational and cybersecurity-related risks for organizations and individuals driven by intensifying polarization.
Methodology:
Capturing a total of 37.7 million publications from over 7.5K public Facebook pages analyzed between 2017 and 2018, Constella's analysis measures the presence and evolution of polarization in the debate, focusing on insults, threats, derogatory language, and hate speech.
Key insights include:
Out of the 37.7 million publications analyzed, 11.4% (over 1 in 10) included insults or some form of derogatory language.
Over time, insults and threats increased from 9.7% to 14%; a 43% increase over 15 months
Download the 'Polarization as an Emerging Source of Digital Risk' report to learn about new digital trends relevant to the protection of organizations, executives, and individuals in the digital ecosystem.
Polarlization: Digital Risk Analysis Report