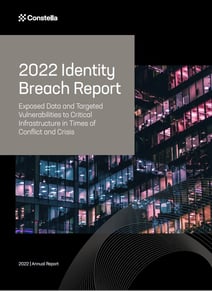 Constella continuously monitors the surface, social, and deep and dark web to deliver intelligence on identity-based vulnerabilities, examining the intersection of consumer, brand, and geopolitical risk.

Learn how identity-based attacks like identity fraud, impersonation, or phishing exploit individuals and are directly linked to risks like malware, ransomware, or coordinated disinformation attacks impacting businesses and critical infrastructure.

Download the 2022 Identity Breach Report to discover key findings from the past year including:
Over 66K breaches and nearly 42B exposed records of consumers and employees were detected circulating in dark markets in 2021.
Critical infrastructure services like healthcare, financial services, and services (such as energy, utilities, transportation and telco), were significantly impacted by data breaches in 2021, suffering every 1 in 3 breaches analyzed.
In an analysis of the 30 companies that comprise the Dow Jones Industrial Average, over 11M exposed personal records from 13K third-party breaches were identified in which employee corporate credentials were exposed.
Out of a sample of more than 120 executives from these companies, 78% had their corporate credentials exposed in a breach since 2018.
2022 Identity Breach Report