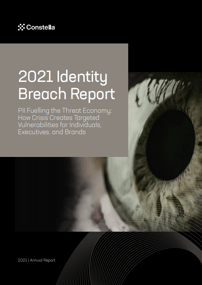 Constella continuously monitors for breaches and leaks found on the surface, social, and deep and dark web with automated crawlers and subject matter experts authenticating and verifying the data.

We help companies recognize and understand the risks of exposed credentials and personally identifiable information.
Findings in our annual Identity Breach Report indicate that the number of new identity records and the depth of personal information available in exfiltrated data is expanding. Exposed identity information is now more intimate — fueling identity-based attacks across the globe.

Download the 2021 Identity Breach Report to discover key findings from the past year including:
Nearly 60% of the data breaches analyzed exposed some form of PII and 72% of these breaches included passwords.
Over 40% of executives from a sample of Fortune 500 companies in Energy and Telecommunications sectors were exposed in a breach over the last 5 years.
Constella observed the sale of vaccine doses—such as AstraZeneca, Pfizer, Moderna, and Sputnik—in multiple dark marketplaces ranging from as little as $8 to as much as nearly $850.
Compared to the findings in Constella's 2020 Identity Breach Report, the price of personal records transacted in dark marketplaces, including passports (+1,185%), and driver's licenses (+328%), ID cards (+642%) increased significantly.
2021 Identity Breach Report