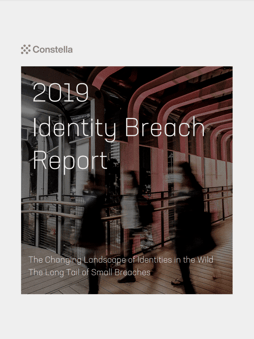 Constella continuously monitors for breaches and leaks found in open sources on the surface, social, and deep and dark web with automated crawlers and subject matter experts authenticating and verifying the data.
Our research findings help companies and individuals recognize and understand the risks of exposed credentials and personal identifiable information.
Download the 2019 Identity Breach Report to dive into data including:
14.9 billion identity records discovered circulating in underground communities representing a 71% increase from year prior.
3.6 billion identity records assessed as new and authentic.
Cybercriminals targeted more small businesses, resulting in a 424% increase in authentic and new breaches from year prior.
Government was the largest growing exposed industry, increasing 291% from year prior.
The United States and China together accounted for 47% of all compromised identity records.
Accidental exposures from open devices account for three of the year's largest breaches.
2019 Identity Breach Report